---
Class Introduction
A class that converts Force to cause explosive destruction from a distance.
Originally derived from the Priests, this class rejected a specialized doctrine and formed their own school.

They have weak health and defense, but they are extremely helpful in battle due to their efficient, destructive attack skills.
However, some Priests criticize them for starting battles just for the destruction.
Features
Powerful attack skill and controls make this class the most aggressive of all.

Their clothes do not provide much defense, but this can be countered
by using ranged abilities and various control skills.

Skill
Their skillset is Fire/Ice Magic based. Ice Magic includes skills that inflict status effects such as Restrict and Incapacitate.

Wizards can use skills to buff their magic attack and recover Mana,

and magic abilities to attack a selected area of effect and boost movement or defense.


Battle Mode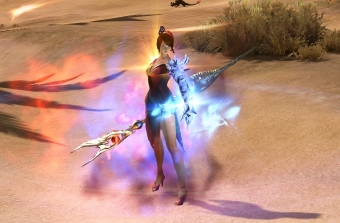 At Lv. 35 and onward, Battle Mode can be obtained through a quest. By summoning Astral Weapons, the weapon appearance can be changed to a blazing wand or ice gauntlet. Wizard Battle Mode exclusive skills can also be used.

Unlike normal skills, Battle Mode skills don't consume MP and have greater Force than other attack and chain skills. Wizards can attack an area using powerful fire and ice Force and use skills to immobilize their targets.


Play Style
As a ranged skilled class, Wizards favor skills like Icelance with status effects (movement speed debuff), while keeping approaching enemies away with Deep Freeze.

Wizard skills are based on Magic Buffs that increase Magic Attack by extremely focused Mana use and spells. They can summon a Pillar of Flame to inflict area damage in the selected zone with multiple enemies.
Wizards are powerful damage dealers who use a variety of ranged magic skills.
Related Pages