---
Class Introduction
A class that attacks at close range with a two-handed sword, wreaking havoc on their enemies
Coming from the same roots as the Force Shielders, they focus more on maximizing destruction than on defense.

On the battlefield, their very presence raises ally morale and strikes fear into the hearts of their enemies.

Some empires in the mainland even have legends about their prowess in battle.

Features
A close-range, damage dealing class that uses a broadsword. They're powerful and have a tremendous attack.

They have a slow attack speed, but an extremely powerful attack. They specialize in wide attacks.

They use armor, but since they have no defensive abilities, their overall defense suffers.

Skills
They generally learn Physical skills, including skills that inflict status effects like Knockdown and Bleeding.

They have special skills that can buff both their own and party members' Physical Attack. They have skills that grant them a chance of gaining a special buff for a short time when attacking. They use their broadswords to devastate their targets at close range and spinning attacks to attack surrounding enemies at the same time.


Battle Mode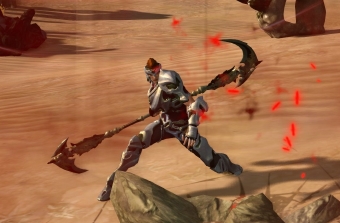 At Lv. 35 and up, Battle Mode can be obtained through a quest. By summoning Astral Weapons, the weapon appearance can be changed to a scythe. Warrior Battle Mode exclusive skills can also be used.

Unlike normal skills, Battle Mode skills don't consume MP and have greater Force than other attack and chain skills. Warriors especially like to use skills to charge their enemies and cause massive damage or down their enemies and restrict them.


Playing Style
They generally like to use the Confusing Slam skill to swiftly approach and strike their target, inflicting status ailments (Knockdown). Then they use their Lacerate skill to cause additional damage to enemies that have been knocked down.

They use their Maelstrom and Sunder Earth skills to attack all enemies in an area at once and use their Cunning Defense skill to help reduce all damage inflicted by their opponents.

The Warrior has tremendous physical attack skills and is a close-range damage dealer.
Related Pages