---
Class Introduction
A class that heals injured allies from behind the battle.
Only people from the Curia can train in this discipline.
Borrowing the power of grimoires to command the Force flowing through the world,
they focus internally on healing the wounds of others, faithfully serving their doctrine to protect.

Features
This is the ultimate healer class that offers versatile healing and buff skills for all situations. They wear cloth and use slates.

Since they wear cloth, their basic defense is relatively low.

With the abilities to heal, survive, and remove status effects, they provide safety for party members.

Skill
Essentially Magic based, including aggression and healing skills.

They use abilities to buff maximum HP or resistance to fire and ice for party members and themselves, and passive abilities offer a chance of additional impact on attack.

They can heal one or all targeted allies in the area of effect and also resurrect dead characters.


Battle Mode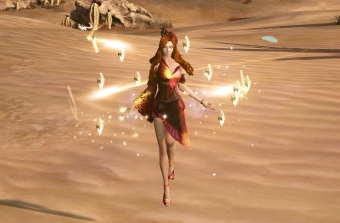 At Lv. 35 and onward, Battle Mode can be obtained through a quest. By summoning Astral Weapons, the weapon appearance can be changed to a crystal or pistol. Priest Battle Mode exclusive skills can also be used.

Unlike normal skills, Battle Mode skills don't consume MP and have greater Force than other attack and chain skills. Priests are specialized in weaponizing purified energy to hurt a target or using skills to recover HP for themselves or party members.


Playing Style
Although Priests often serve their role using recovery skills, they employ offensive abilities such as Divine Light (ranged attack) and Entangling Revenge (movement debuff) in combat.

They use a set of recovery skills including Light of Revival, Swiftmend, and Healing Light to recover HP for party members and are able to remove debuff effects with Heal skills.
Priests are vital healers in party play as their abilities recover health, remove debuffs, and even resurrect others from death.
Related Pages