---
Class Introduction
This class is able to respond to a variety of combat situations with its Force abilities.
This is a class restored from the Ancient Empire. They maximize their potential by adding Force to their Force artifact
blades.

Their destructiveness clearly depends on their Force potential, but with more training they can sometimes fall into an eternal darkness.

They require a deeper understanding of the Force and must be careful not to lose themselves in it.

Features
This class has a variety of skills that allow it to respond effectively to almost every situation. Using a skill in the right situation can be very powerful.

Unlike other classes, they have 'Recharge' and MP. The effects of skills change depending on the charge level of 'Recharge'.

Skill
Generally learn Lightning/Dark Magic type skills, including skills that inflict status effects like Stun.

They have skills that increase the party's Critical Accuracy and that increase their own Lightning/Dark attack. They can also reduce damage and increase magic defense.

They have dynamic attacks that use lightning to strike an area.


Battle Mode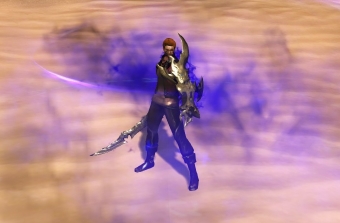 At Lv. 35 and onward, Battle Mode can be obtained through a quest. By summoning Astral Weapons, the weapon appearance can be changed to a sword or dark gauntlet. Force Blader Battle Mode exclusive skills can also be used.

Unlike normal skills, Battle Mode skills don't consume MP and have a greater Force than other attack and chain skills. Force Bladers can attack an area using powerful lightning and dark Force and use skills to Stun their targets.


Play Style
Phantom Slash is the typical beginning with a quick sneak and hit behind the target, followed by Lightning/Resolute Slash that provides Charge for other lightning magic.
Power of Domination: Wings of Awakening can bring more impact to battle by maximizing all ability stats and Dark damage. Thunderclap comes in handy when handling multiple targets as it summons Lightning that damages the nearby area.
Recharge is a unique feature that Force Bladers use to maximize damage output or chain of skills depending on the situation.
Related Pages