---
Class Introduction
They specialize in attacking their enemies quickly from a distance using Force-generated arrows.
This is a class restored from the Ancient Empire. Using Force artifact bows, they create arrows by concentrating their energy.
They attack very quickly and from a great distance with the help of equipment imbued with ancient power.
This class has a better understanding of various artifacts than of the Force.

Features
This class uses arrows to attack from a distance. They have less attack power than Wizards, but can inflict explosive damage under the right conditions.There are a lot of things that you'll need to pay attention to in order to deal massive damage, since they have a variety of control skills to complement their attack skills.

Skill
Generally learns magic skills, including skills that inflict status effects like Restrict, Immobilize, Stun, and Bleeding.

Focusing on skills that increase their own accuracy, they also have skills that increase their MP recovery and their Evasion. They can use powerful attack skills that fire a barrage at many enemies at once or fire grenade shots to deal area damage.


Battle Mode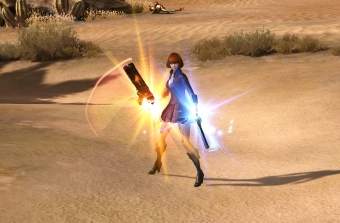 From Lv. 35 and onward, Battle Mode can be obtained through a quest. By summoning Astral Weapons, the weapon appearance can be changed to that of a shotgun or pistol. Force Archer Battle Mode skills can also be used.

Unlike normal skills, Battle Mode skills don't consume MP and have greater Force than other attack and chain skills. Force Archers can use a shotgun to destroy things in an wide area and use skills that immobilize their targets.


Play Style
Generally, they start their distance attack with Aimed Shot and use Rapid Evasion to help keep their distance or retreat. They may engage in battle after using Paralyzing Arrow to immobilize their target.
When in battle, they use Volley to attack approaching targets and use Grenade to inflict a variety of status effects and damage to enemies in an area.

Force Archers use attacks that inflict status effects to defeat their enemies from a distance. They are a damage-dealing class that can inflict great damage when the conditions are right.
Related Pages